An Edelweiss private charter offers a unique venue for any occasion—whether it be a corporate outing, wedding, anniversary, or birthday.
Impress clients and out-of-town guests with the stunning views that only Edelweiss Cruises can provide by traveling through the heart of downtown and into Lake Michigan. A unique event space in Milwaukee, an Edelweiss private charter is the perfect reason to bring people together while providing your guests with a one-of-a-kind experience that they will be talking about for years to come.
Amenities
Our premier vessels can best be described as banquet halls on water, which are uniquely positioned in the heart of downtown on the Milwaukee River. Your Special Event Coordinator will work with you to ensure your cruise is set up and customized to fit your vision.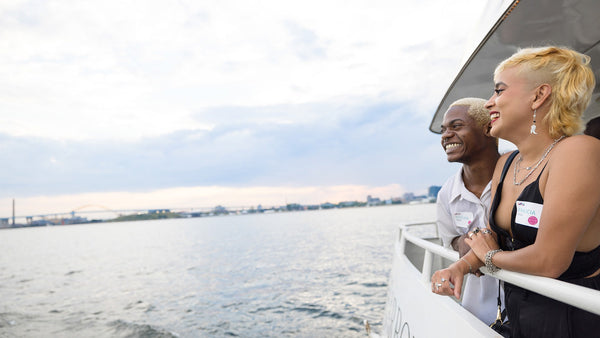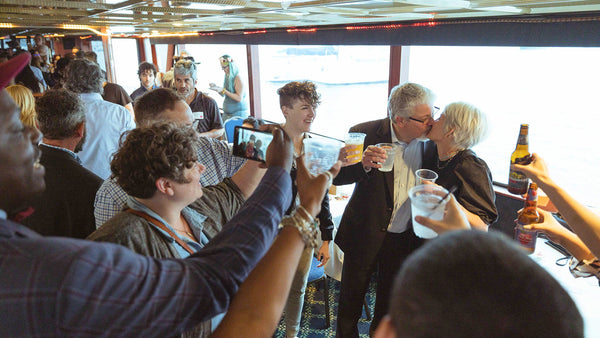 Interior Cabins
Both male & female restrooms are included.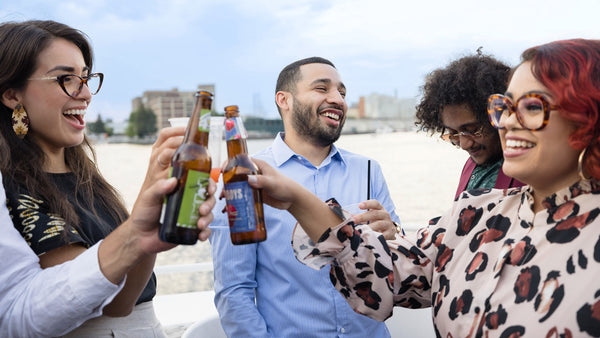 Food & Beverages
Includes an interior bar and a custom-chosen menu. All service ware (plates, silverware, etc), linens (tablecloths and napkins), and tables & chairs are provided.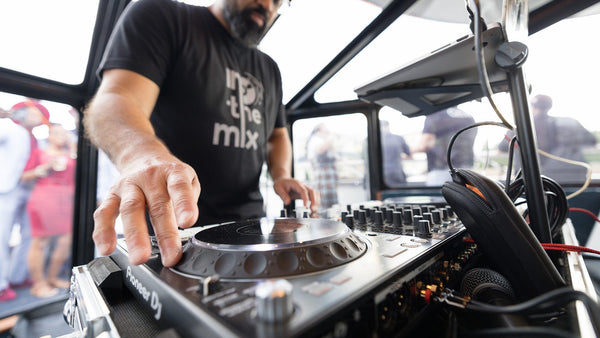 A sound system
With a PA and device hookups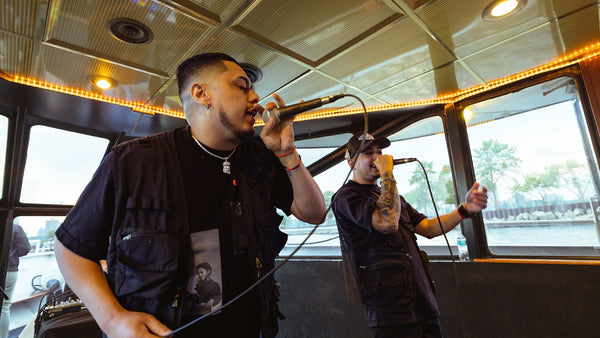 Live entertainment options
Entertainment & Bar
Kick your event up a notch by adding live entertainment and a custom bar package.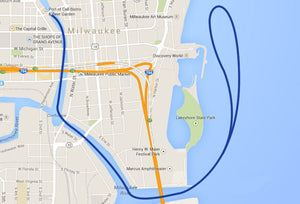 Cruise Route
All private charters travel through downtown via the MIlwaukee River and into Lake Michigan. All of our vessels remain inside of the breakwater along the shoreline, providing the best views of the cityscape. Highlights include: Historic Third Ward, the Marus Center, Allen Bradley clock tower, Milwaukee Art Museum, Discovery World at Pier Wisconsin, and the Summerfest grounds.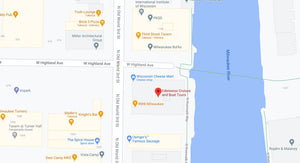 Departure Point
All private charters will depart from our main dock conveniently located in downtown Milwaukee at 205 W. Highland Ave.
Our vessels can accommodate boarding of manual wheelchairs with the assitance of our captain and trained deckhands. We require that you inform your Special Events Coordinator in advance if you have any guests that require handicap boarding. Weight restrictions and the width of our doorways prevent us from being able to accommodate motorized wheelchairs or scooters.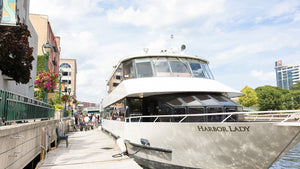 Parking for your guests
1110 N. Martin Luther King Dr. – Riverfront Plaza Building/Third Street Tavern Restaurant 1 block North of Edelweiss Dock
1017 N. Martin Luther King Dr. – Vern's Parking 1 block South of Edelweiss Dock
130 E. State St., Marcus Center - This parking ramp is on the East side of the Milwaukee River. Take the Highland Ave. walking bridge to the West Side of the Milwaukee River, where you will find our boats.
Hear from Our Biggest Fans
This was my first time working with Edelweiss. Lindsay was amazing for all of the planning questions that I had and getting us organized the day of the cruise. Everyone on the boat was very friendly and we have already received positive feedback from our interns on their experience. Thanks for a great afternoon!
Lyndsay did a great job keeping us informed on unforeseen logistical changes due to the Bucks game on the night of our cruise. Thanks to her help we developed a plan to accommodate the cruise without compromising the experience. Thank you for the flexibility to help support our company event. We look forward to working with you again.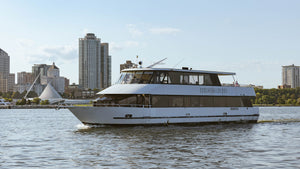 Our Cruise Vessels:
The Harbor Lady and Miss Wisconsin
Private charters use our top vessel: The Harbor Lady. An Edelweiss cruise offers a unique venue for any occasion–whether it be a corporate outing, wedding, anniversary, or birthday
Frequently Asked Questions: Private Charter Edition
Use this text to orient the user to what they are looking at and direct them to contact Edelweiss if they have more questions.
How do I book?
All private charters MUST be booked at least 3 weeks in advance of the event date. We do require a 50% deposit to hold your date and time. Two weeks prior to your cruise is when the final guest count and final details need to be solidified. The final balance is also due 2 weeks prior to the cruise date. Please contact our Special Events Coordinator to book your private charter.
Can we bring our own food or beverage?
We do not allow outside food and beverage to be brought on board any of our larger vessels. However, we do offer a full, comprehensive menu for you to choose from. Our Special Event Coordinator is happy to work through any dietary requirements and special needs you may have with you.
Can we bring a cake on board?
Yes, a cake or cupcakes/specialty dessert is the only exception that we will make to outside food being brought onto the boat. We do require all cakes be handled by the bakery and be delivered right to the boat an hour before your event. Edelweiss staff cannot store a cake in advance of your event or carry any cakes down to the boat. A $75 cake cutting fee will be charged for all cakes brought on board. Fee is subject to increase if the cake is extra large or has multiple layers.
Can we bring our own DJ?
We do not allow outside DJs to be brought on board due to our DJs being well versed in noise regulations and Coast Guard regulations on the vessels. Our DJs are extremely talented and experts on a good time! They will work with you prior to your event to ensure that your music is customized to your group/event.
Are we allowed to decorate the boat?
Absolutely! Although we do suggest keeping things simple as the backdrop of our beautiful city serves as amazing decoration. Please note, glitter, confetti, and scattered flower petals (real or artificial) are strictly prohibited. Any decoration you wish to bring on board must be approved by the Special Event Coordinator at least 2 weeks prior to your cruise.
How early can we come on board to decorate our boat?
A maximum of 5 guests are allowed to board the boat 1 hour prior to the event start time to set up decorations.
What time should we have our guests arrive?
We suggest having guests arrive 30 minutes prior to departure. We will begin boarding 15 minutes prior to departure time.
Where do we board?
Boarding takes place at our main dock location 205 W Highland Ave at Gate 2 located at the bottom of the ramp.
Where do our guests park?
Although we do not have our own parking lot, there is plenty of street parking on Highland Ave. and Dr. Martin Luther King Jr. Dr. and local lots within walking distance that you can utilize.
Address of Edelweiss Dock: 205 W. Highland Ave., Milwaukee, WI 53203

Marcus Center Parking Ramp: 130 E. State St.

This parking ramp is on the East side of the Milwaukee River. Take the Highland Ave. walking bridge to the West Side of the Milwaukee River, where you will find our boats.

Vern's Parking: 1024 N. Doctor Martin Luther King Jr. Drive
1 block South of Edelweiss Dock on the South side of Usinger's (After 5pm & weekends only)

There are other paid parking lots within a 1 block radius of our dock.

Buses should unload passengers at the Southeast corner of Martin Luther King Jr. Dr. & Highland Ave.
Since we are located in downtown Milwaukee, we do not have access to a parking lot specifically for buses. Bus drivers should return to the same place they unloaded passengers after the cruise is completed.
Do you cancel the cruise if the weather is bad?
We cruise rain or shine, even in a thunderstorm. Our vessels offer plenty of indoor space that will allow your guests to still enjoy your cruise experience. The only weather that could side line us would be a tornado warning or gale force winds. In that case we would still board your group to the boat, we would not leave the dock until it was safe to do so. If we are unable to leave for the duration of your cruise, you would be compensated accordingly.
Are the boats handicap accessible?
Yes. However, all wheelchairs must be standard sized mechanical wheelchairs. Extra wide and motorized wheel chairs will not fit through our boarding ramp.